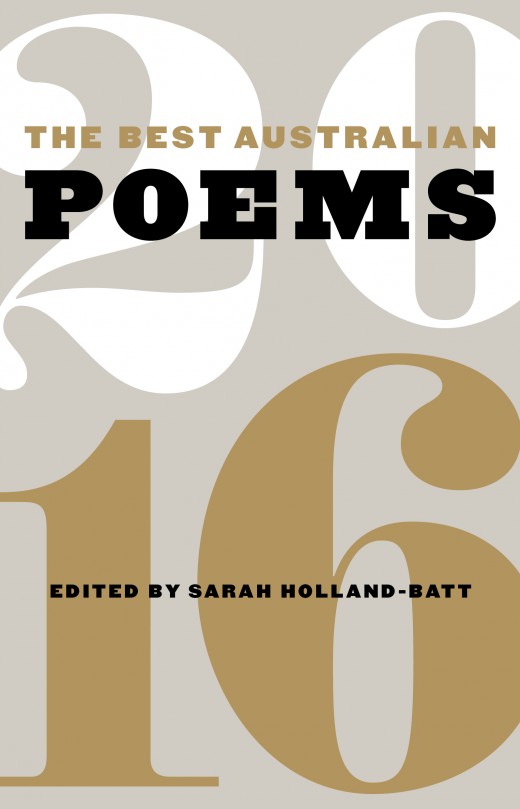 This post will win me no friends, but fuck it who cares – the world has shifted on its axis. It's been spurred by the Facebook pain of my dear friend Rebecca Edwards who is not included in Puncher and Wattman's Contemporary Australian Poetry 1990-2015. (Update – Rebecca was included, but didn't know about it). I did make the cut, which for me marks the first time I've been included in a national anthology of Australian poetry since Five Island Press's, New Music: an Anthology of Contemporary Australian Poetry published some fifteen years ago in 2001. So I understand some of her psychic discomfort; some fucked up sliding doors phenomena, as though your poetic life over that period never existed at all.
So, the annual 'best of' Australian poetry published in 2016 is out courtesy of Black Inc. and edited this year by Sarah Holland-Batt (with the help of her cat Lola it seems). Right now there are two parties of Australian poets – the ones who were published in the anthology celebrating the fact, and the other party who missed out, scratching their heads and thinking 'Why wasn't I included?' 'I published heaps of poems this year, why didn't she pick one of my poems?"I didn't even get a rejection email!'
Anthologies I've learnt, are pretty random like poetry prizes. With poetry prizes the top say five shortlisted poems could all have won said competition usually, such is the quality of poetry now being produced in this country. The anthology I like to be included in is the annual Newcastle Poetry Prize anthology because all the entries are judged blind and get up on the strength of their writing, not because of some past or present association, political/aesthetic allegiance, part of some academic coterie, generational junta or for heaven's sake because of mutual respect or god forbid conference friendship.
The usual names are there. The big guns.Generation 68, L-A-N-G-U-A-G-E poets, current literary journal editors, PhD poets, concrete poets, anti-pastoral poets, landscape poets, lyric poets, Sydney poets, Melbourne poets etc. As one of the poets who is scratching their head whilst members of the other party celebrate on social media, I could give in to bitterness and depression and paranoia about being left out. Jesus, the editor was even from my home state of Queensland (and city Brisbane), but that still didn't sway her decision to include my work. Good on her for not being too parochial. There is at least a smattering of sunshine state poets included.
Clive James is in there. Again. Not quite dead yet I see as he's still able to submit poems for consideration. I wonder how many poems he published in Australia this year? Then again he was video-cast during the Queensland Poetry Festival too this year, so he must still be of some cultural significance to editors and organisers in Australia – a place he hasn't called home for a while. Then again, Clive Palmer got a gig too last year at Australia's premier poetry festival and he'd only published a single slim volume of juvenilia maybe 30 years ago. But he made poetry actually newsworthy! Maybe that's the strategy to adopt – go a long way on little talent, bullshit your way to the top like Trump has this week.
Then again this year I've had to deal with another oversight, so I've learnt to turn myself into steel. The best way to hit back at omission is to keep on writing and publishing your work. Like that scene in 'Die Hard' when Hans Gruber says to his gang of European criminals after they've hit an armoured police car with a rocket launcher,'Hit them again.' There was that incident at the QPF when I questioned Felicity Plunkett over her editorial selection for the ABR 'States of Poetry' Queensland series. I asked her how she could justify selecting five UQP poets for the anthology out of the six poets included, when she was a) not a resident of Queensland, b) a published UQP poet herself, and c) the current UQP poetry editor. I don't know, maybe I am being paranoid, but she gave a long-winded response about wanting an Indigenous poet and a queer poet and how two of the poets had been selected six months earlier when they didn't have UQP contracts or publications, so they didn't really count as UQP poets then. She didn't mention either that three of the UQP poets had new books out this year – Holland-Batt, Barnes and van Neerven, so including them would help publicise their collections I guess?
What I objected to in that project was that two of the poets chosen didn't even have books published at the time (they do now), and two of the poets are practically interstate blow-ins, one having been here for only three years. All I could help thinking was, what about other Queensland poets like Liam Ferney, Brentley Frazer, Vanessa Page, Kristin Hannaford, Chloe Callistemon, Carmen Leigh-Keates, Duncan Richardson and Ross Clark? Even Anthony Lawrence and Stuart Cooke who teach at Griffith University GC could surely stake a claim representing Queenslandness! Plunkett said that there's more anthologies to come from ABR, a second or even third round maybe where inclusiveness (or non-UQP published poets) will get their chance. I just hope we don't have to wait another fifteen years for the opportunity.
On the way out of that QPF session I was hissed at by Madonna Duffy, who said and I quote, 'Maybe they were just the best!'
When it come to the selection of poetry in anthologies, I do hope that's the goddam awful truth.